One of the things I have been made aware of in my role is the rapid rise of online information relating to older workers.
Some of this activity is from central government, such as https://www.gov.uk/government/publications/help-and-support-for-older-workers/help-and-support-for-older-workers. However, many other websites are created by older people themselves. They have often faced difficulties in the jobs market and want to use their experiences to help.
I have been really excited to see the entrepreneurial spirit of older people and the excellent range of resources they have built. I will highlight just 2 of those that I have seen, amongst the many websites aiming to help people looking for work in later life and smooth the frictions of the labour market.
The first one is www.matureworkerswelcome.org.uk
This site was brought to my attention last week by its owner. His ambition is for the site to be an ongoing resource which over-50s can turn to when jobseeking. It would help them identify larger firms which, as the site implies, are welcoming to mature workers. There is a lot of potential with this approach, and the website is off to a positive start with lots of links for jobseekers to explore.
The next site is www.retirementreinvented.com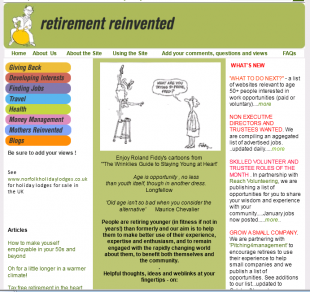 The 3 older workers behind this website have been developing it for 9 years. From our conversations they explained that most of the interest from site visitors was in relation to the jobs page, as well as their listings of non-executive directorships. These are positions that would not necessarily appeal to all older jobseekers, but their inclusion does demonstrate the breadth of guidance offered online.
There are also some commercial sites that claim to cater specifically to the older jobseeker, such as:
Without passing judgement on them, it is heartening to see the interest in this agenda and see businesses responding to a clear need and consumer demand.
I am unable to highlight all the resources that are available online. However, the fact that so many such sites have been developed by older people themselves confirms that the stereotypical view of older people being technologically unaware is way out of date.
If you are looking for a new employment challenge, I do hope that you will find some of the sites useful.