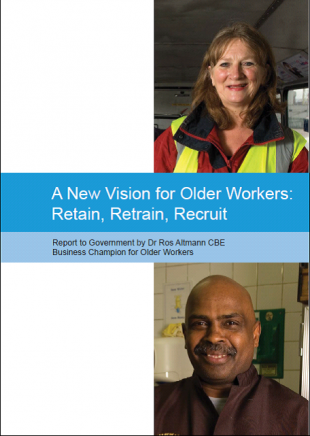 Today as Business Champion for Older Workers, I have published my independent report to Government – 'A New Vision for Older People: Retain, Retrain, Recruit'. The report calls for action to ensure all members of our society, of whatever age, receive the support they need. It sets out how business, Government, individuals themselves and the media can do more to support older workers and improve perceptions of the over 50s.
Background of the Report
We are all aware that as a country we are facing substantial demographic change. The figures are stark – by 2022, there will be 700,000 fewer people aged 16 to 49 in the UK workforce but 3.7 million more people aged between 50 and State Pension age.
Working life today is very different in many ways from how things used to be in the 1950s.  For example, the way women are treated has improved enormously with greater gender equality.
But while the drive for gender equality has made great progress, the same cannot be said for another area of workplace discrimination – the negative attitudes towards older workers.
I know from the vast amount of correspondence I have received that age discrimination at work remains a real problem for many. All too often, when it comes to your career, once you reach your fifties or sixties, you are considered "past it" – or less use. We need to permanently shift these attitudes in all parts of society.
The Future
My vision is for a future where every older person who wants to work, can work. In this future, flexible working and phased retirement are the accepted and indeed expected norm.
I want Government, employers and individuals to carefully consider my report and take action to help see the UK lead the world in redefining later life working. The right response will benefit us all.
Dr. Ros Altmann
Government's Business Champion for Older Workers